Big Cypress Careers
Thank you for your interest in working for Big Cypress Lodge, part of the Big Cedar Lodge family of brands. We appreciate the time you are taking to apply for one of our open positions, and we look forward to reviewing your application.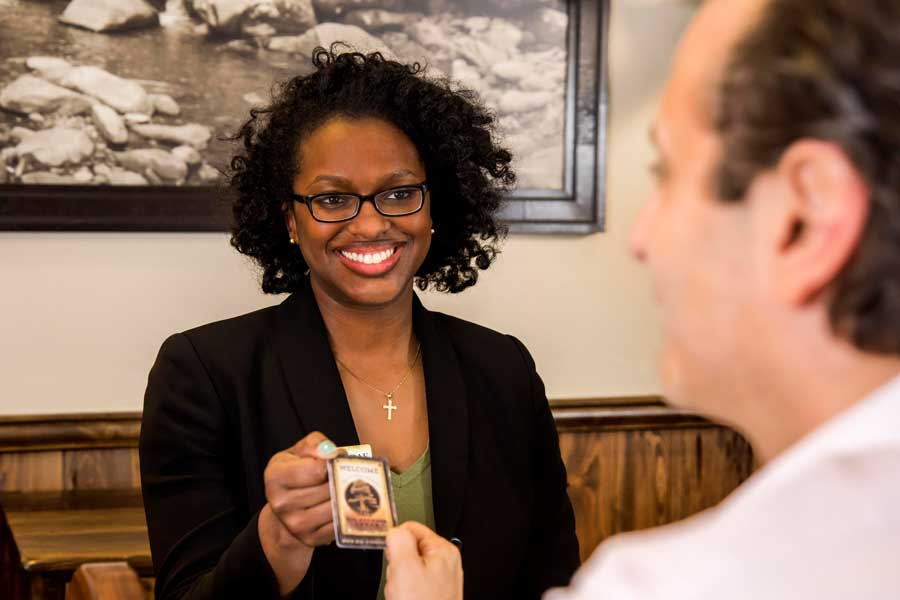 Big Cypress Associates
---
Know and embody the Big Cypress and Big Cedar mission and values.
Provide outstanding hospitality and professionalism in every guest interaction.
Are empowered to resolve problems and instances of guest dissatisfaction.
Assist and practice teamwork in, and outside, their department.
Greet, own and thank guest and associates in every interaction.
Are responsible for maintaining a safe, accident-free environment, preserving Big Cypress assets and protecting confidential information.
Are knowledgeable of all services, amenities and attractions inside the pyramid.
Take responsibility for keeping the property clean.
Present a professional appearance by following dress and grooming standards.
One of America's Most Reputable Companies
---
FORBES
Consumers rank Bass Pro Shops as one of the most reputable companies in the world according to a new national study.
Big Cypress Employee Benefits
Associate Discounts
Big Cypress Lodge is proud to offer our associates generous discounts at Bass Pro Shops, Cabelas, Big Cedar Lodge, Top of the Rock, Big Cypress Lodge, Dogwood Canyon and Wonders of Wildlife.
Healthcare Plans
Full-time hourly associates become eligible for benefits the 91st day of continuous employment and salaried associates become eligible for benefits on their date of hire. Coverage is available to associates, their legal spouses and their dependent children.
Medical Benefits
Big Cypress Lodge offers three medical plan options that include prescription drug coverage that is administered by UnitedHealthcare®. All plans offer preventative care services covered at 100% with in-network providers.
Big Cypress Lodge Employee Benefits
Vacation & Holiday Benefits
Big Cypress Lodge currently recognizes six paid holidays: New Year's Day, Memorial Day, Independence Day, Labor Day, Thanksgiving Day and Christmas Day.
Regular full-time and part-time associates are eligible for holiday pay. To qualify for holiday pay, eligible non-exempt associates must complete 90 days of employment and must work all of their scheduled hours on the last workday before the holiday and all of their scheduled hours on the first workday after the holiday (unless on approved vacation or your absence is approved by your supervisor). Associates on a leave of absence do not qualify for holiday pay.
Full-time associates will receive eight hours of holiday pay at the regular straight-time rate for each paid holiday. Associates classified as part-time will receive four hours.
More About Vacation Benefits Below.
Additional Benefits
HDHP Core Plan And HDHP Value Plan
PPO Plan
Dental Insurance
Vision Insurance
Health Advocate EAP+Work/Life
Flexible Spending Account
Health Saving Account Options
Group Accident
401(K) Savings Plan
Basic Life And AD&D
Supplemental Life
Long Term And Short Term Disability
Bass Pro Cares Fund
Hospital Indemnity
Critical Illness
Whole Life Insurance
Vacation
Our associates perform better when taking time away from their jobs during the year. To encourage a refreshing break from work each year, we grant paid vacation time to our employees.
Non-Exempt Associates
Regular full-time and part-time non-exempt associates who worked at least 1,040 hours during the prior eligibility year are eligible for vacation based on the following schedule.
Years of Service Vacation
1-6 Years: 80 hours
7-13 Years: 120 hours
14+ Years: 160 hours
Exempt Associates
Big Cypress Lodge grants paid vacations to exempt associates as follows.
Years of Service Vacation
0-1 Year: 40 hours
1-6 Years: 80 hours
7-13 Years: 120 hours
14+ Years: 160 hours